sábado, 26 de abril de 2008
8

Comentarios
Posteado por Jesús a las 18:34.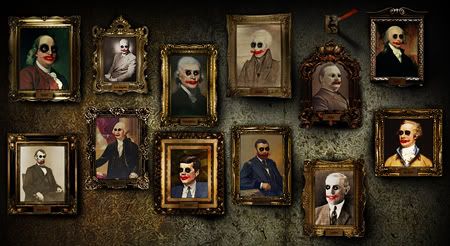 Ya hay más detalles del juego que se abrirá
en tres días
y que, definitivamente, nos traerá un trailer. En la galería de presidentes de
la página de la que salió el poster ayer
, se han abierto nuevas ventanas.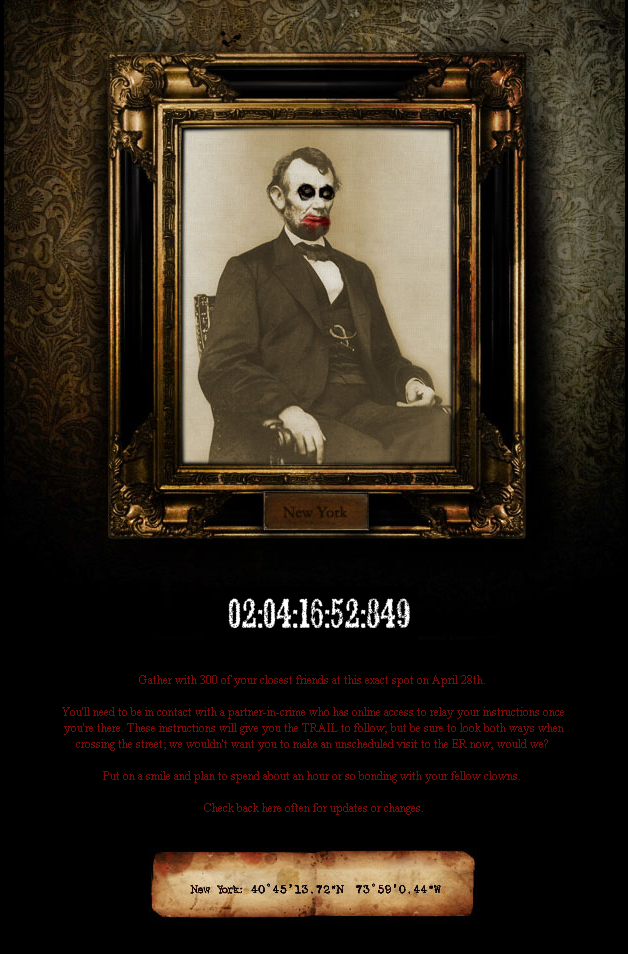 Al pulsar sobre cada presidente se abre
un cuadro con una ciudad, una cuenta atrás, un mensaje y unas coordenadas, que enlazan a Google Maps
. Las ciudades y el cuadro del presidente en el que están son (sólo he puesto el enlace al mapa en una, el resto en la web):
Boston
– Benjamin Franklin
Los Angeles - Dwight D. Eisenhower
Philadelphia - Thomas Jefferson
Chicago - Andrew Jackson
Dallas - Grover Cleveland
Seattle - James Madison
New York – Abraham Lincoln
Kansas City – George Washington
Toronto - John F. Kennedy
San Francisco - Ulysses Grant
London - Woodrow Wilson
Sao Paulo - Alexander Hamilton
Y el mensaje dice:
Gather with 300 of your closest friends at this exact spot on April 28th.

You'll need to be in contact with a partner-in-crime who has online access to relay your instructions once you're there. These instructions will give you the TRAIL to follow, but be sure to look both ways when crossing the street; we wouldn't want you to make an unscheduled visit to the ER now, would we?

Put on a smile and plan to spend about an hour or so bonding with your fellow clowns.

Check back here often for updates or changes
o
Reúnete con 300 de tus más cercanos amigos en este lugar exactamente el 28 de abril.

Tendrás que estar en contacto con algún cómplice que online para que siga tus instrucciones una vez estés ahí. Estas instrucciones te darán un camino (en inglés TRAIL y que en el mensaje original figura en mayúsculas) que seguir, pero debes asegurarte de mirar hacía los dos lados de la calle cuando cruces; no nos gustaría que hicieras una visita inesperada a la sala de urgencias (en inglés ER y que también figura en mayúsculas en el mensaje), ¿O no?.

Prepara una sonrisa y un plan para pasar una hora más o menos creando un lazo de amistad con tus compañeros payasos.

Revisa esto frecuentemente para actualizaciones o cambios.
¿Y esto que significa? Primero, que si somos tan avispados de unir TRAIL con ER nos sale TRAILER, lo que creo que confirma que será un trailer la recompensa al juego.
En Firstshowing
incluso se aventuran a decir que en esas ciudades se habilitarán cines para que el grupo de 300 que vaya a ese lugar el lunes pueda verlo en pantalla grande.
Segundo. Que me jode que no pongan algo en España, lo entiendo, pero me jode. Si algún lector de Siga a ese taxi se acerca por allí, que lo diga [Sé que no, pero tenía que decirlo ;p]
Etiquetas: dark knight, proximamente, trailer, virales, webs