domingo, 20 de julio de 2008
10

Comentarios
Posteado por Jesús a las 3:35.






No tengo tiempo, así que resumo:
- Ha roto
el record de estreno de pases de media noche
, quitando del puesto de honor a
Star Wars Episode III: Revenge of the Sith
. En sus primeras horas, consiguió
$18,489 mill.
, por los $16,9 mill. que había conseguido la anterior en mayo de 2005.
- Con
$66,4 mill.
recaudados en 4.366 salas ha conseguido
el record de película más taquillera en su primer día de pases
, que tenía
Spiderman 3
con $59,841,919.
- Ahora mismo,
The Dark Knight es la película más valorada de la historia
por
los usuarios de imdb.com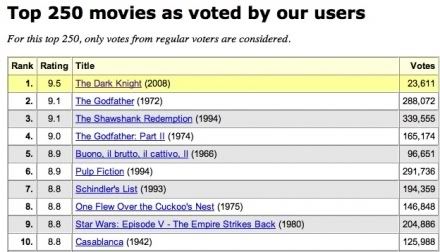 ¿Qué será lo próximo?
Aún queda por pulverizar el de mejor fin de semana de estreno, que por el momento tiene Spiderman 3 con $151,1 mill. Todos estos records y algunos más los puedes consultar
en Box Office Mojo
.
Actualización
Estaba cantado. También ha superado el record de
película más taquillera en el fin de semana de su estreno
. Lo cuentan en
Variety
,
Tu Blog de Cine
,
Movieweb
,
Film School Rejects
,
Slashfilm
, ...
The Dark Knight ha superado los $155 mill
.
Etiquetas: box office, dark knight, noticias, proximamente, records