sábado, 16 de febrero de 2008
3

Comentarios
Posteado por Jesús a las 3:15.






Si aún no os habéis recuperado del
trailer
de
Indiana Jones y el Reino de la Calavera de Cristal
a.k.a.
Indiana Jones and the Kingdom of the Crystal Skull
de
ayer
, aquí tenéis la versión en castellano (si encuentro descarga en HD la pondré)
El caso es que, hasta aquí pensaréis que poco más que comentar. Pues os equivocáis.
Veo en Slashfilm
(que a su vez habla de
CHUD
y
AICN
) que hay algunas
diferencias entre la versión americana de ayer y la internacional
que vemos traducido a varios idiomas o subtitulado hoy. Como no quiero teneros como en el juego de los pasatiempos de los periódicos buscando los siete cambios, os lo cuento.
El primero, y quizás por culpa de la
mojigata MPAA
, en el plano en que realmente comienza el trailer (lo anterior es un refrito de las otras pelis de Indy) y el arqueólogo más querido por todo el mundo está rodeado de soldados podemos ver, en la versión internacional, varias
armas
apuntando a su pecho. En la versión americana, nada.
La segunda, y algo menos significativa, es el
cambio de fondo
(realmente también de texto, pues no concreta fecha y se queda en un ambiguo "En Mayo", ¿cambio de fecha? ¿se retrasará una semana?) y la pérdida de la
bandera americana
justo cuando termina la recopilación de planos de las películas anteriores (sobre el segundo 20 del trailer).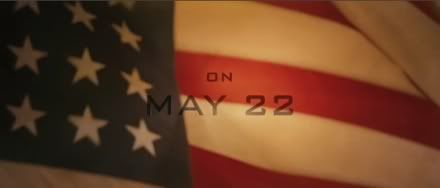 Sea como sea, con armas, sin armas; con banderas, sin banderas... Me encanta este adelanto.
¿Tú que opinas?
Etiquetas: indiana jones, indiana jones 4, proximamente, trailer