miércoles, 31 de octubre de 2007
45

Comentarios
Posteado por Jesús a las 12:05.






Como
estaba predicho
(pese a
mis suspicacias
),
la vela se ha apagado hoy
, día 31 de octubre, la mañana de
Halloween
y el lateral izquierdo de la calabaza a terminado de pudrirse. Como ya pasó
al descubrir el (timo)trailer anterior
, en la página hay ahora un juego en el que miles de norteamericanos (porque a nosotros nos pilla un poco lejos) estarán ya participando y en el que, con 49 pistas repartidas por las calles de 21 ciudades, tendrán que resolver el acertijo.
Ya que ninguno de nosotros puede tomar parte en el acertijo y para los que le interese, les dejo
la entrada de Slashfilm
en que están siguiéndolo y os adjunto la carta que actualmente podéis encontrar en la página del Joker, Why So Serious. En unas horas tendremos
material
y, cómo no, yo os lo colgaré.
P.D.:
Pregunta obligada pero de la que conozco la respuesta, ¿Algún norteamericano en la sala que se haya acercado a ver el tinglado? Ya decía yo :(
Actualización
Las pistas llevan a letras y ya han descubierto 27 de las 49...
Actualización 2
La página ha cambiado y han comenzado a subir
recortes de las fotos
de las letras a las que conducían las pistas y, aunque no están todas parece que va a poner "The only reasonable way to live in this world is without rules", o, castellanizado,
"La única manera manera lógica de vivir en este mundo es sin reglas"
. Si entráis en
Whysoserious.com
podéis ver los adelantos que llevan y en pocas horas algo que esperemos sea jugoso... Seguiré editando este post cuando aparezca algo nuevo. Gracias por
los comentarios de Irene L. Adler
(ya me explicarás ese nombre ;)) y
a Slashfilm por existir
Actualización 3
Ahora ya sólo quedan dos letras, pero parece que el mensaje no es el que creía, sino "The only sensible way to live in this world is without rules" o
"La única manera manera sensata de vivir en este mundo es sin reglas"
... ya queda menos (os dejo un pantallazo de
Whysoserious.com
)...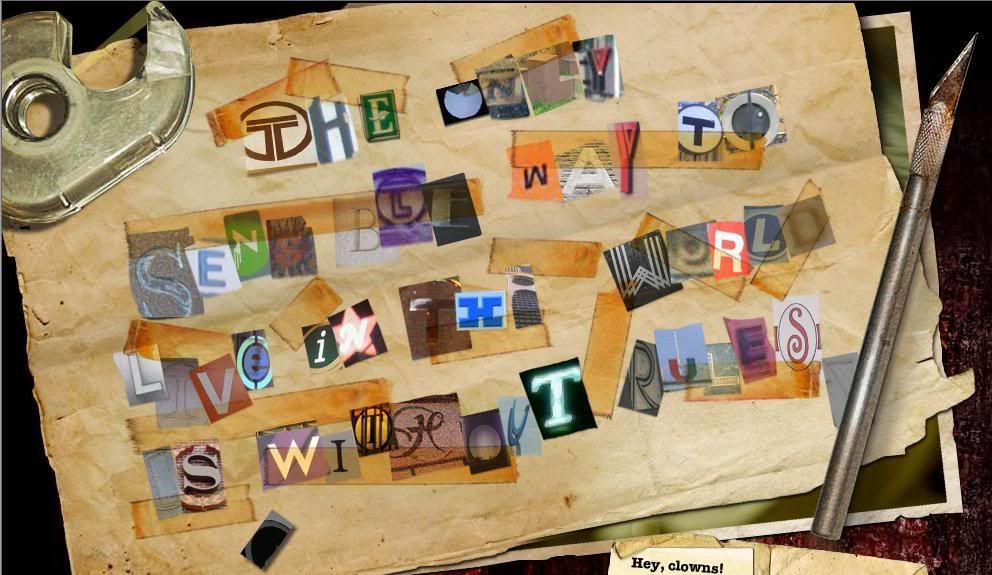 Actualización 4
Se ha llevado una entrada única por no recargar esta y por haber colocado ya encima la de
Feliz Halloween
. Para seguir enterándote del juego de Joker tienes que leer
El juego continúa
Etiquetas: dark knight, promociones, proximamente, webs