sábado, 5 de mayo de 2007
4

Comentarios
Posteado por Jesús a las 11:59.






Cuando Tarantino y Rodriguez todavía no se han recuperado del
varapalo en taquilla
de Grindhouse, el incalificable
Eli Roth
ya
está pensando
en proseguir con este tributo de
exploitation
,
sexploitation
y
slasher
con una nueva "double feature".
Roth planea transformar su fake trailer
Thanksgiving
en una película y ha pensado que su compañero perfecto en este proyecto sería
Edgar Wright
y su Don't.
"I already talked with Edgar Wright about Edgar doing 'Don't' and me doing 'Thanksgiving,'" said Roth. "We're talking to Dimension about it. I think they're still trying to figure out 'Grindhouse 1' before we think about 'Grindhouse 2,' but I've already been working on the outline for it and I would do it in a heartbeat".

"He hablado con Edgar Wright sobre la posibilidad de que el hiciese Don't y yo Thanksgiving", dijo Roth. "Estamos hablando con Dimension sobre ello. Creo que todavía están intentando solucionar Grindhouse 1 antes de pensar en Grindhouse 2, pero yo he estado trabajando esbozándolo y lo podría hacer sin pensarlo dos veces (inmediatamente)"
Se supone que no se tratará de una producción similar a la de Tarantino & Rodriguez, tan costosa y difícil de sacarle rendimiento en taquilla. De momento, Roth ya ha adelantado que sería más corta: "Pienso que tres horas y media es demasiado para la gente. Entre que vas al cine, aparcas... Se te van cuatro horas. De cualquie manera, los que han visto Grindhouse les ha encantado".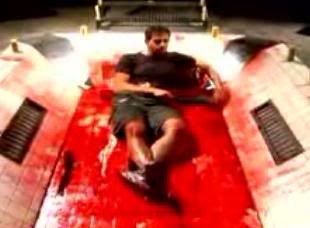 Puede que no sea más que un delirio que no se lleve a cabo, pero a los seguidores del cutrerio y la casquería setentera/ochentera nos encantaría ver este proyecto hecho realidad. Ya sólo faltaría que junto al
DVD de Machete
(del que he visto
unas lobby cards
) apareciese Werewolf Women of the SS, aunque creo que ya estoy comenzando a desvariar e ilusionarme incluso antes de ver Grindhouse 1... (no se si verla ya o esperarme al cine a verlas divididas...¿?)
Vía|
Bloody Disgusting

Más información
Los fake trailers de Grindhouse
Etiquetas: don't, dvd machete, edgar wright, eli roth, grind house, grindhouse 2, machete, thanksgiving, werewolf women of the SS